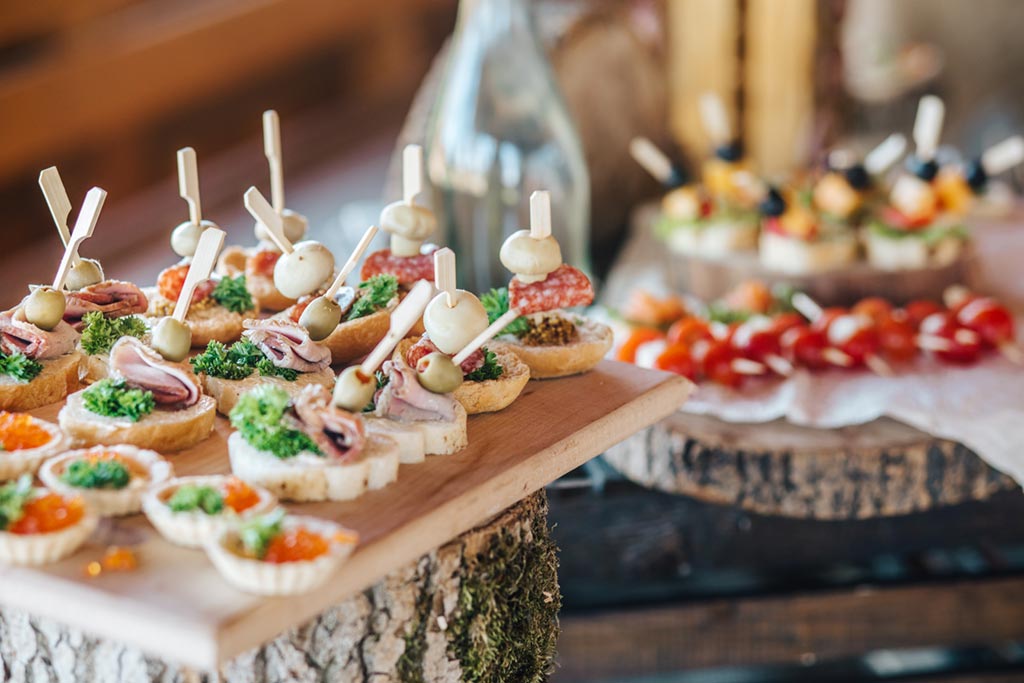 Post by Kacey Bradley
It takes time and thought to plan out a successful wedding. You have to think about where your guests will stay, how you'll get to your venue and even which poses you want in your photographs.
There's also a ton of planning for your wedding reception. What you serve your guests makes your wedding a party or an event guests get through before grabbing fast food on the way home. An easy way to find food that pleases everyone is to serve fresh foods.
Fresh foods are whatever happens to be in season during your wedding or anything made fresh to order as soon as the guests decide what they want.
1. Cheese and Cracker Board
There's nothing quite as refreshing as sipping a glass of wine and eating crackers topped with sliced cheeses. It's something people normally don't have at home, so it really stands out as a cocktail hour appetizer. Have fun with the combinations by getting cheeses and crackers of different colors and varieties. Your guests will enjoy tasting the varying flavors and trying something new.
2. Grapes and Apple Slices
Cold fruit on a hot summer day is a lovely snack, which is why spring, summer and early fall brides should give their guests grapes and apple slices to nibble on. They're both sweet and compliment each other perfectly. Pair with white wine or champagne for a rounded cocktail hour snack or reception side.
3. Roasted Veggie Trays
It's always smart to lay out veggie trays for guests to sample while they wait for the reception to begin, but you can transfer those veggies to a baking sheet too. Ask your catering company to roast the fresh veggies of your choice and serve them while they're warm. Top with olive oil and your favorite spices for a nice twist on a classic dish.
4. Lobster Mango Salad
People always serve seafood fresh, so why not put it on your reception menu? Instead of pairing it with heavy foods like mac and cheese or mashed potatoes, keep things light by making a lobster mango salad with a list of dressings guests can choose from. This fresh meal will look perfect when paired with marble table elements, which give any food a classic yet modern look.
5. Prime Rib Carving Station
Food always feels fresh when you prepare it yourself, but your guests shouldn't have to worry about cooking their dinner. Instead, work with your catering team so your everyone gets prime rib with their dinner. Set up a carving station, where everyone slices off however much they'd like and can come back for more anytime.
6. Hot Fried Chicken
Fried chicken straight out of the pan has a fresh taste and texture that reheated fried chicken doesn't. Have your catering team prepare fried chicken at your venue for your guests, so everyone gets fresh fried chicken with whatever else you choose to serve.
7. DIY Taco Bar
Most people love tacos, so create a taco bar at your wedding. The key is to have staff ready and waiting to replace taco meats and fillings with fresh replacements. If everything remains at the right temperature, the tacos will taste just as good for those walking up for their third or fourth plate.
8. Wood-Fired Personal Pizza
Anyone can order pizza, but wood-fired pizza has a specific taste that's fresher than pizza from a conventional oven. Rent a wood-fired stove or work with a caterer who has one to serve that kind of pizza for your guests. They'll love trying it if they haven't had any before, especially when they choose the toppings they love for their personal pizza.
Consider the Season
Each season has different foods that are considered fresh during that time of year. Think about the fruits, meats and seafood you want to serve to see if local stores around your venue have them on sale. You'll find foods that inspire you, leading to the ultimate fresh food menu for your big day.
---
About the Author
Kacey Bradley is the blogger behind The Drifter Collective, an eclectic lifestyle blog that expresses various forms of style through the influence of culture and the world around us. Along with writing for her blog, she has written for sites like U.S. News, SUCCESS, Guides for Brides, Hotel Online and more!
Follow Kacey on Twitter