Planning the details of your wedding day is both exciting and stressful. Catering, decorations, and attire — all must be carefully considered and determined well in advance. And then there is the matter of transportation in a stylish limo. Unless you are an expert, it may be difficult to pull all of these pieces together into a seamless, classy event. So Wedsure has compiled this list of 10 Must Ask Questions for limo companies before you make a deposit.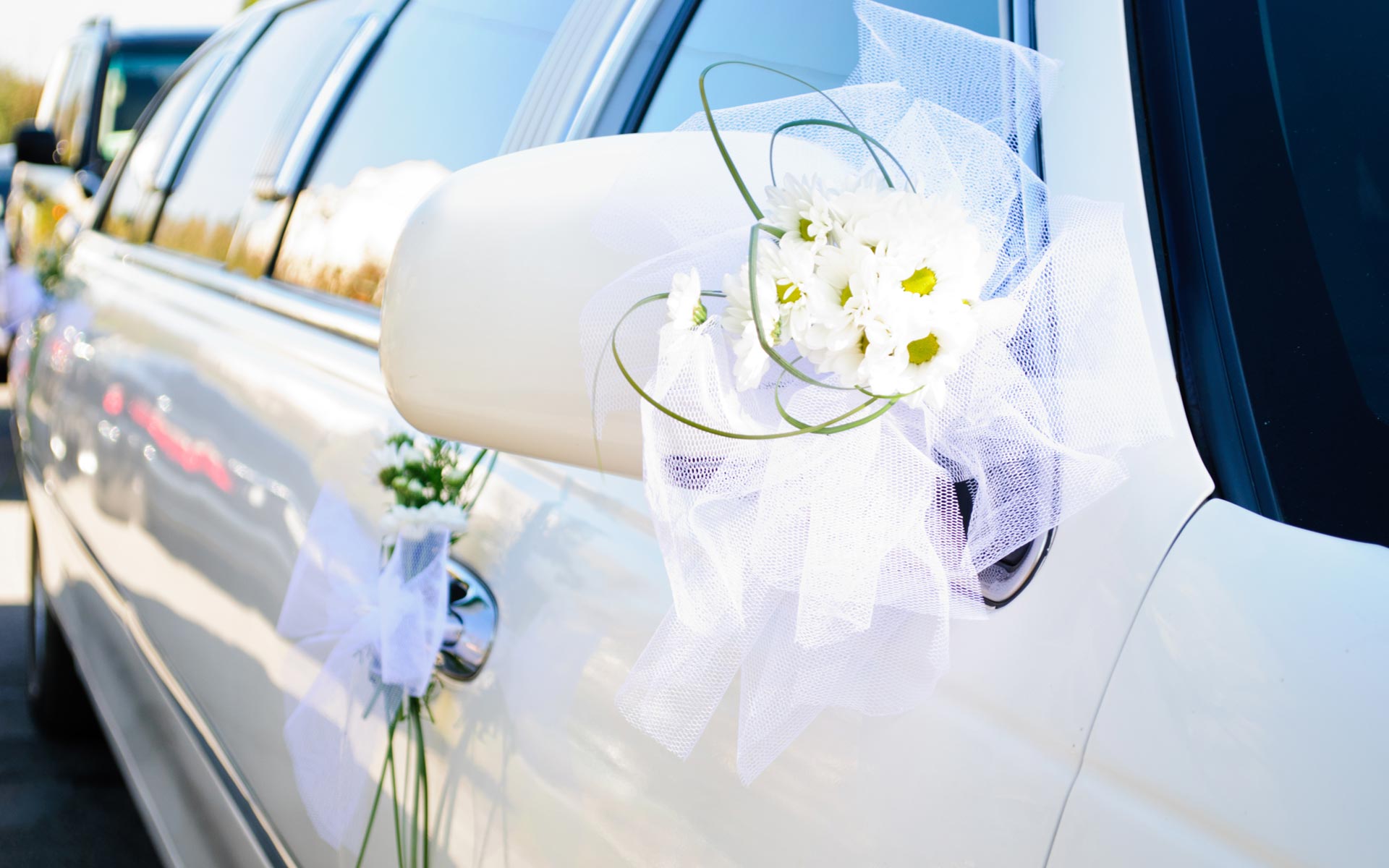 1. What training requirements do you have for your drivers?
Most states require limo drivers (their official title is chauffeur), to have a chauffeur's license or permit, in addition to their regular class D driver's license. If your limo ride will take you across state borders, the chauffeur is required to have a chauffeur's permit in that state, as well.
2. What attire will the driver arrive in?
Many companies require a certain dress code for the chauffeur, as they will be publicly visible when they arrive at your event. . Limousine drivers should be professional and dressed appropriately. There are, unfortunately, all too many horror stories of casually dressed, disgruntled, or even intoxicated limo drivers who have turned up to try to escort a shocked wedding party to their reception.
3. What models do you offer?
There are many different kinds of limousines – from the basic stretch limousine to an SUV-based model. Inquire about the make, model, and year of the limos offered by the company.

4. Can I request a certain model?
Often, a limousine company will offer several different models under the same price blanket or passenger capacity. If you have a preference, be sure to specify which model you would prefer to use.
5. How many people can I bring with me?
Limousines come with a predetermined passenger capacity. Be aware, however, that this number represents the maximum capacity – not always the most comfortable. It may be better to reserve a limo that is for larger groups than yours, leaving you room for personal space and personal belongings. Why cram together when you can enjoy luxury?
6. Do you charge services by mileage or by the hour?
The answer to this question will determine whether you cruise the highways during your joyride or whether you stick to driving slowly through town. Asking this question before planning your route will help prevent disappointment later on.

7. What does the limousine company's insurance policy cover?
Discovering what is covered by the limousine company's insurance policy will help you in the event of a fender bender or more serious accident. Who's insurance will be liable in case of a personal injury and whether additional insurance will need to be purchased are all good questions to ask.
8. Do you guarantee your services?
What happens if you are entirely unsatisfied with the services you received? (Refer back to question #2) Limousines are an expensive luxury, and anything on the fault of the driver or chauffeur that compromises the class status of this event should be guaranteed against. Connecting with a manager ahead of time will establish a point of contact, in the event that the services you receive are sub-par.
8. Are food and drinks provided?
Some limos come stocked with champagne and food – others do not. Find out whose responsibility it is to make sure all of the components are present for a merry drive. If the limo does not come with food or drinks, inquire as to whether you could order some ahead of time to have it stocked and paid for separately. The less details you have to worry about on the big day of your event, the better!
9. Will we need to set our route ahead of time?
It is a good idea to set a route ahead of time, although most companies and drivers are more than willing to be flexible. If there are certain destinations that you would absolutely like to hit along the way, be sure to give the names and addresses to your driver so they can look up driving routes ahead of time. Once again it is important to know whether you are being charged by time or by mile if you are planning a route.
10. Do you have a contract?
For every business transaction, it is important to have a written and signed contract before the money changes hands. This will help you to know what is expected of you and what you can expect from the limousine company and the driver. Even if it is not the policy of the company to utilize contracts, you have the freedom to request that they do so in your case. No one wants to be unpleasantly surprised by a waived liability or unexpected charge during their evening of fun and relaxation.
With these 10 must ask questions, you can confidently begin calling around to find the perfect limousine to add to your plans!